Goals of the Program
Encourage and empower students in Monterey County to start walking to school more frequently.
Reduce traffic and increase safety around schools.
Build and foster community for students and families.
Provide families and kids with more options to get to school in ways that benefit environmental and personal health.

Overview What is the "Walking School Bus Program"?
A walking school bus is a safe and fun way for children to get to and from school while walking with trained adults. Just as a school bus picks up and delivers students to school, a Walking School Bus, led by adults, "picks up" students along a route. It can be as informal as two families taking turns walking their children to school, or more structured with a planned route and specific meeting places and times.
Walking School Bus Plus
Walking School Bus Plus takes the Walking School Bus to the next level by using a bar code technology called Active4Me to track their active (walking, biking, skating, or scootering) trips to school. Tags are handed out to the children, scanned once the walk is over and parents are notified that their child has arrived at school via text message or email. Families can also view a website that shows active miles traveled, calories burned, and points earned. The points go towards monthly prizes and kids who participate weekly are entered into a raffle to win a bike!
2022-2023 Walking School Bus Programs
Kammann Elementary
Sherwood Elementary
Los Padres Elementary
Fremont Elementary
Jesse G. Sanchez Elementary
Martin Luther King, Jr. Academy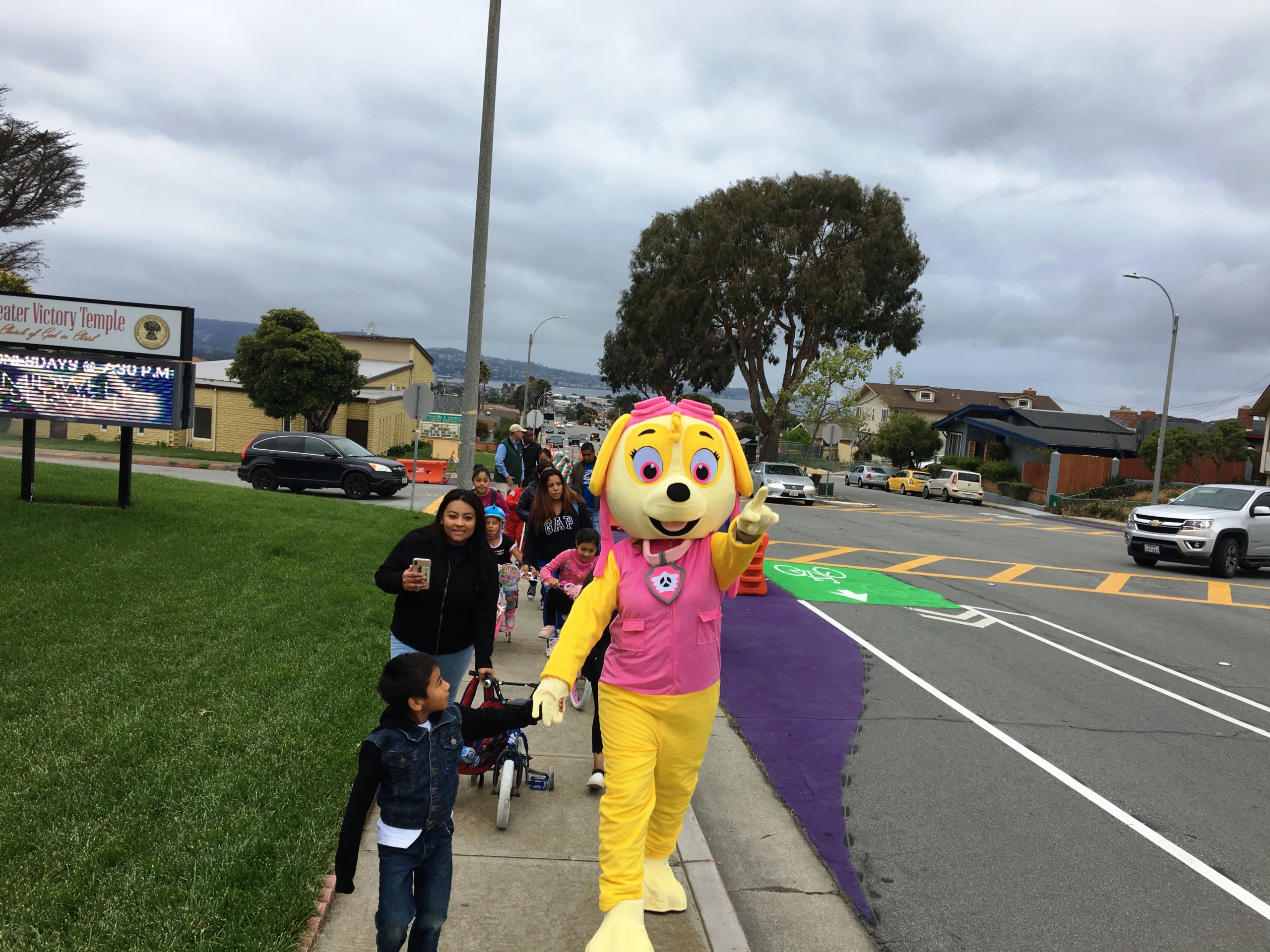 If your School has a Walking School Bus:
Connect with coordinators at Ecology Action and the Transportation Agency for Monterey County. (See contact information at the bottom of the page).
Look out for school announcements about program details and how to participate.
Connect with other parents or guardians to bolster support and participation in the program!
Participate in an Adult Volunteer Training Workshop and become a Walking School Bus leader!
Recruit other Walking School Bus Leaders so that the existing program can be sustained for years to come.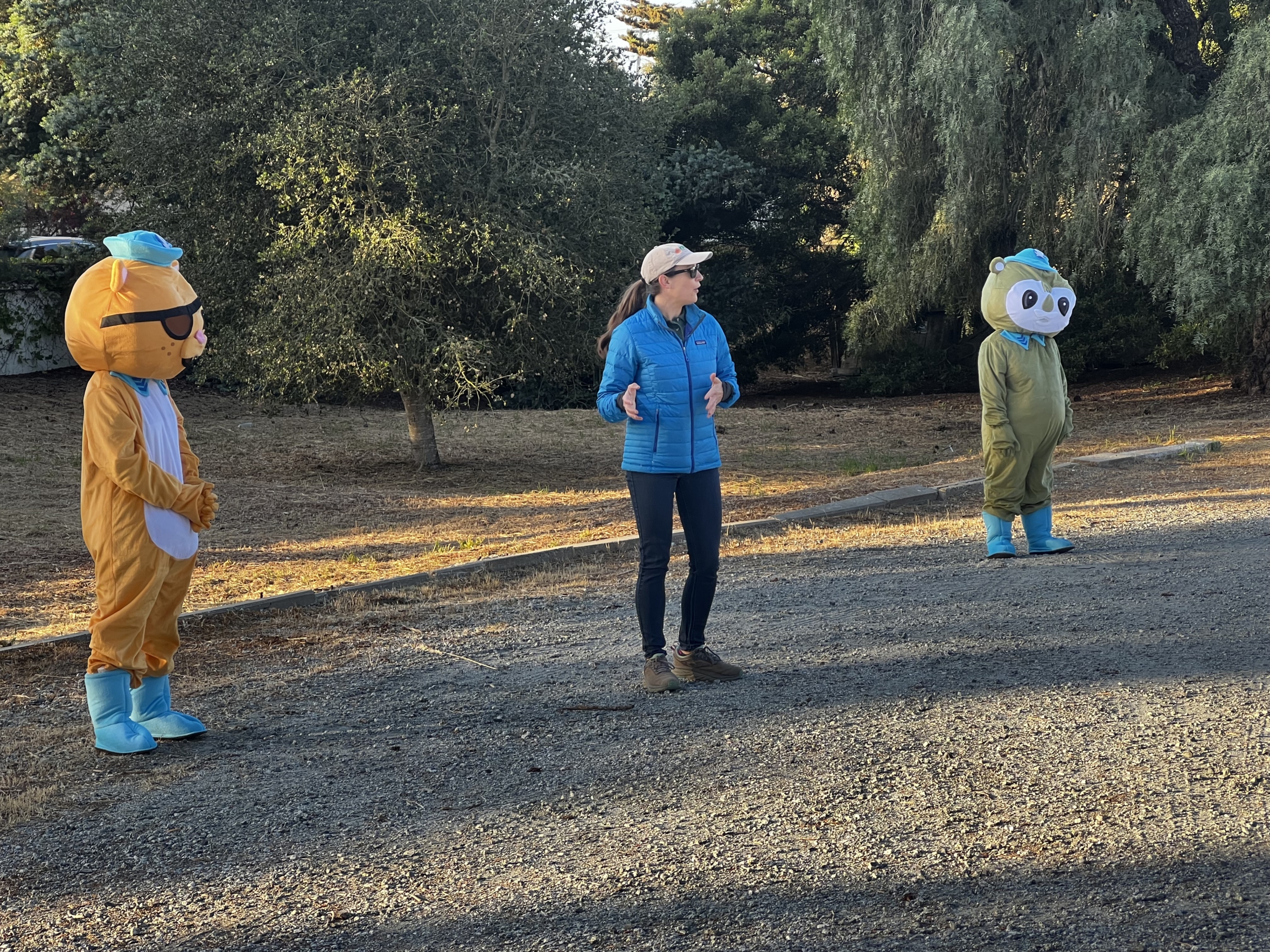 If you want to launch a Walking School Bus:
Start Small. Check in with your school and local families if there is interest and support for launching a Walking School Bus.
Decide on the structure of the program. Is an informal or formal program right for your school? How long will the program run? What days of the week and times will the Walking School Bus run?
Recruit adult volunteers to lead the Walking School Bus. Start with participating families, then reach out to other schools or parent groups. We recommend having at least two adult volunteers per route with substitutes in case of an absence.
Identify your route. Try to plan a Walking School Bus route that is less than 1 mile long. Look for accessible sidewalks, clear crosswalks, and roads with slower traffic. If possible, provide a map of the route to all participating families.
Recruit students to participate by promoting through word of mouth, posters at school, or online.
Check in with the Transportation Agency for Monterey County or Ecology Action to get set up with a Volunteer Kit!
Launch your program! Keep it fun for students by incorporating games or having themed days. Be prepared for bad weather and keep families informed of any changes in schedule or route.
A Walking School Bus is a great opportunity for your student to practice the traffic safety skills they learn in their WalkSmart classes including:
…plus when walking they'll have a chance to:

The Details
How to Participate
Check in with your school to see if there is an existing Walking School Bus or see if there is interest and support for launching a Walking School Bus.
Park & Walk
Live too far to walk all the way from home to school? No problem! You can still get some exercise in and help reduce traffic around the school. Just park a block or two away and walk the rest of the way to school.
Learn about Park & Walk
Our Team
Our team will work closely with you or your staff to develop Park & Walk program materials for your school.
Ariana Green
TAMC
ariana@tamcmonterey.org
831-775-0903

Other Programs