GOALS OF THE PROGRAM
To encourage more students to consider walking, to empower students to make safe decisions while walking, and ultimately to reduce the likelihood of collisions for young pedestrians. We teamed up with our friends at Ecology Action to deliver a two-part program that is interactive and fun for 2nd graders.

Walk Safety
We teamed up with our friends at Ecology Action to deliver a 2-part walking safety program packed with serious fun.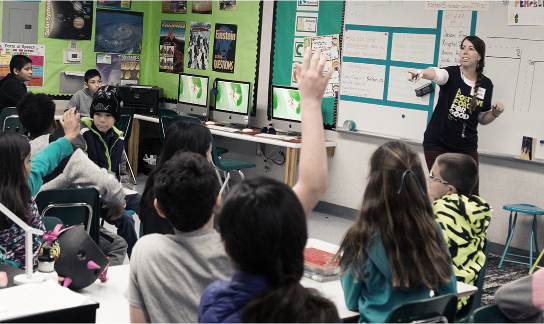 Part 1
The program kicks off in the classroom with a 45-minute presentation that is interactive and fun for the students. We bring all of the equipment for a hassle-free experience for the teacher.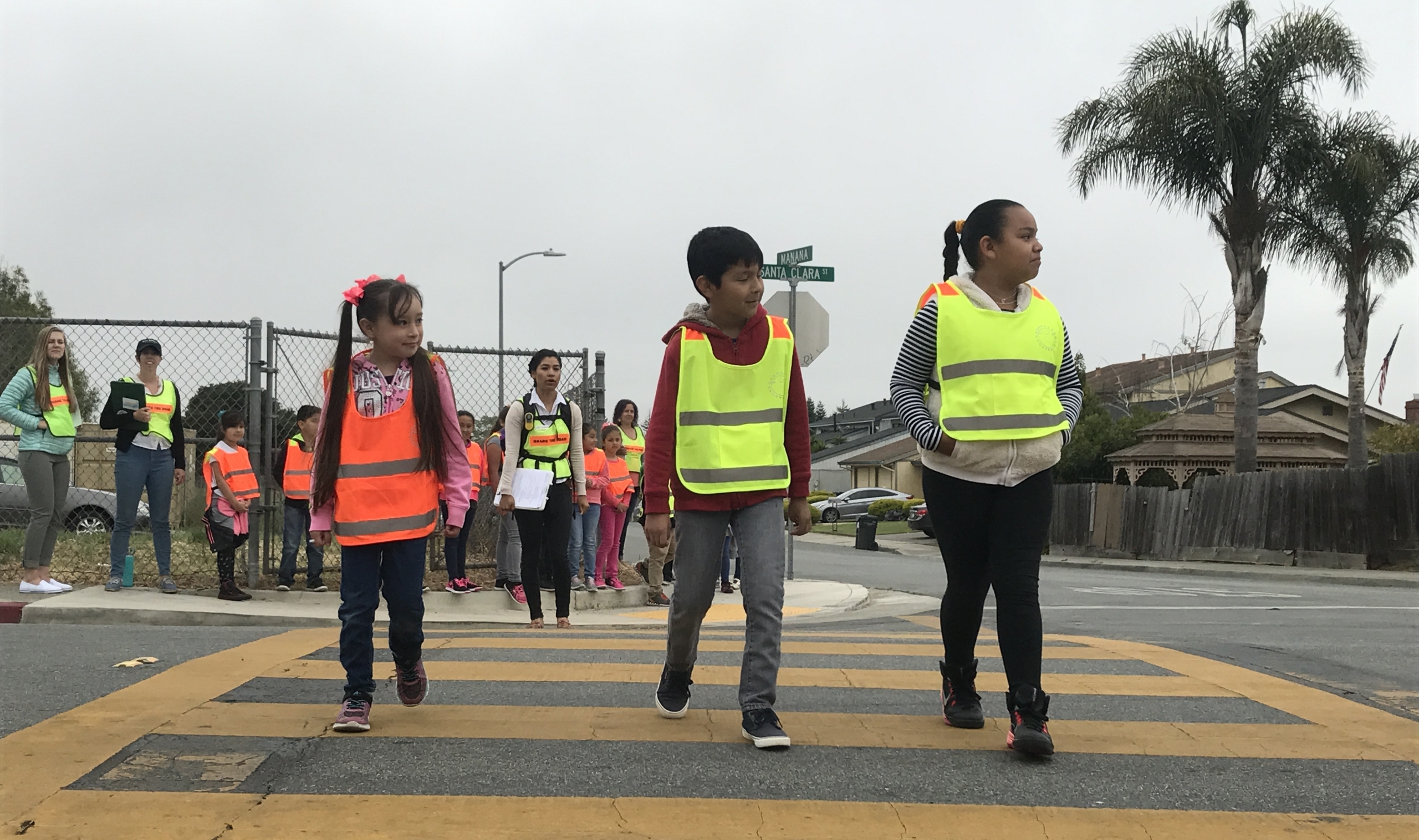 Part 2
Then, we hit the streets working with smaller groups of students that are each issued a reflective safety vest. Under careful supervision, all students will individually demonstrate the Stop, Look, and Listen method to determine if it is safe to cross the street.
BY THE END OF THE PROGRAM KIDS HAVE LEARNED:
"I am very pleased with how this turned out. I am excited to share the scavenger hunt with my students! It will be a great follow-up for our families." 2nd grade teacher

The Details
The Course
Ecology Action's pedestrian safety education program, Walk Safe, includes youth pedestrian safety training for Santa Cruz and Monterey County youth in grades 1st-3rd with a focus on 2nd grade. The program includes classroom presentations and on-foot safety training. The presentation introduces the street crossing method "Stop, Look, and Listen" through video, demonstration, and discussion. Students then practice this method through a combination of role playing, dance, and Simon Says for a fun, educational and interactive classroom experience! Presentations are then paired with on-foot safety training where students embark on a walk around the block nearby their school. During this walk, students are engaged in actively observing their surroundings and safe walking practices around common walking hazards like driveways, parked cars, mid-block crossings, and traffic signs/signals. We tailor our activities to meet the needs of each school to most effectively deliver quality instruction.
Pedestrians have an important role to play in bike safety, too. Cyclists and walkers have a symbiotic relationship, working together to show that car travel doesn't have to be the norm. Through Ecology Action's efforts, nearly 5,000 2nd graders have learned how to be safe on the street.
IN THE CLASSROOM
The Walk Safe presentation is delivered to each 2nd grade class individually in the classroom. The 45-minute presentation can be modified to align with school preferences. We bring all equipment and props to ensure a fun, educational experience for the students.
THE WALKING FIELD TRIP
On a separate day, Walk Safe staff will return to the school for the walking field trips. The walking field trips allows students to practice using the safety skills learned in the classroom through a fun, interactive walk around the school neighborhood.
The walking field trip is ideally 1.5-hours long for each class, but we can modify the timing to best align with the school schedule.
The walking field trips begin in the classroom, where staff members review skills taught in the presentation and review rules for the field trip. The class is then divided by the classroom teacher and each group is issued a brightly colored, reflective safety vest. Students are then led off campus in color-coded, single-file lines.
At the first crossing, the class will cross as a large group after all students practice the Stop, Look, and Listen method to determine when it's safe to cross. At subsequent crossings, the class will be divided in smaller and smaller groups, until students reach the test crossing. For the test, students will cross in groups of 2-3. Under careful supervision, all students must individually demonstrate the Stop, Look, and Listen method and determine when it is safe to cross. During the field trip, students will also learn about driveway safety and how to read the lights on a car.
Walk Safe staff will conduct a short wrap-up and present students with a certificate and bookmark. In addition to rewarding the student, each student is asked to share the materials with their families to reinforce the important safety messages.
Our Team
Our team will work closely with you or your staff to determine the best schedule for your classes.
Kira Ticus
Ecology Action
kticus@ecoact.org
831-515-1338
Ariana Green
TAMC
ariana@tamcmonterey.org
831-775-0903
Get Involved
Walk Safe volunteers and interns assist lead staff in the implementation of the Walk Safe training. Help make your community a better place, and have fun doing it.
Contact Us

Other Programs