Goals of the Program
Increasing the ridership of elementary-aged students, while simultaneously reducing the crash rates of young bicyclists.

Overview Bicycle Safety
We teamed up with our friends at Ecology Action to deliver a 2-part bicycle safety program packed with serious fun.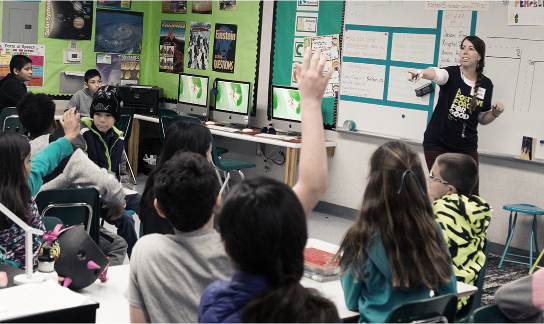 Day 1
The program kicks off with a high-energy interactive 1-hour classroom session. We bring everything the students need, including nationally certified and bi-lingual teachers, safety equipment, our interactive presentation, props, and more.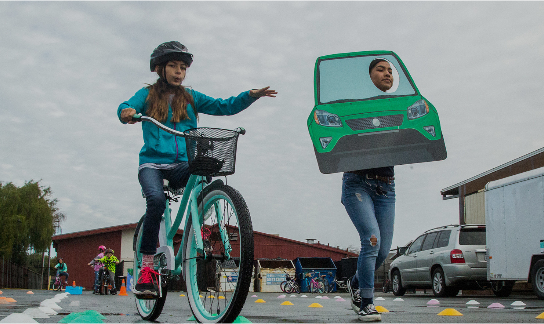 Day 2
The kids roll into an approximately 2-hour bike rodeo where they apply all of the safety skills they learned in class across a fun safety obstacle course. We bring a fleet of bicycles, helmets, and safety gear so that any student can get in on the action even if they don't own a bike.
By the end of the program, kids have learned important safety skills, including:
…plus the importance and use of safety equipment:
Emily A. – 4th Grader from King City
"The Bike Smart program helped me overcome my fear of riding a bike in my neighborhood."

Bike Smart Updates
Read Our Updates
December 12, 2019
Transportation Bill Takes Big Strides for Biking and Walking
Our Next Event
February 2020
Celebrate Park & Rec Month by Engaging with Community

The Details
The Course
The Bike Smart staff arrives at the school one hour before the first rodeo to set up the course. The Course generally fills about two basketball courts worth of space, although we can modify it to work at any school. We use a variety of cones, props, and chalk to create a mock intersection on the school blacktop.
The rodeo is ideally 2-hours long, but we can modify the timing to best align with the school schedule.
The Rodeo
The rodeo begins with an in-classroom review of the skills taught on the first day and introduces the students to the bicycle safety course. Then, half of the kids stay in the classroom, while the other half accompany the Bike Smart instructors to the course. The teacher is given additional bicycle safety games and lessons that they can administer to their half of the students. Then the two groups switch places. After both groups have ridden, the Bike Smart staff regroups with all of the students in the classroom. They reflect on what was learned, conduct a brief rodeo survey, and hold a bicycle safety raffle.
Our Team
Our team will work closely with you or your staff to determine the best schedule for your classes.
Kira Ticus
Ecology Action
kticus@ecoact.org
831-515-1338
Ariana Green
TAMC
ariana@tamcmonterey.org
831-775-0903
Resources
Get Involved
Bike Smart volunteers and interns assist lead staff in the implementation of the Bike Smart training. Help make your community a better place, and have fun doing it.
Contact Us

Other Programs